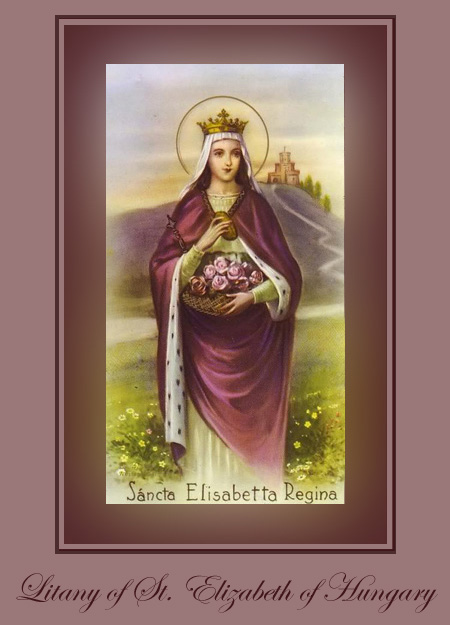 Lord, have mercy on us.
Christ, have mercy on us.
Lord, have mercy on us.
Christ, hear us.
Christ, graciously hear us.
God, the Father of Heaven,
Have mercy on us.
God, the Son, Redeemer of the world,
Have mercy on us.
God, the Holy Ghost,
Have mercy on us.
Holy Trinity, one God,
Have mercy on us.
Holy Mary, Mother of Mercy,
Pray for us.*
Holy Elizabeth, mother of the poor,*
Saint Elizabeth, who didst fear God from thy heart,*
St. Elizabeth, most fervent in devotion,*
St. Elizabeth, devout and beloved disciple of Jesus,*
St. Elizabeth, imitator of blessed Francis,*
St. Elizabeth, of noblest faith and birth,*
St. Elizabeth, devoted to all pious offices,*
St. Elizabeth, whose nights were spent in prayer and contemplation,*
St. Elizabeth, who wast consoled with heavenly visions,*
St. Elizabeth, beloved of God and man,*
St. Elizabeth, full of contempt of this world,*
St. Elizabeth, example of poverty, chastity and obedience,*
St. Elizabeth, solace of thy husband,*
St. Elizabeth, mirror of widows,*
St. Elizabeth, holocaust of penance and humility,*
St. Elizabeth, admirable preacher of meekness,*
St. Elizabeth, despiser of the luxuries of the regal house.*
St. Elizabeth, lover of the Cross of Christ,*
St. Elizabeth, light of all pious women,*
St. Elizabeth, nourisher of the orphans,*
St. Elizabeth, always intent on works of mercy,*
St. Elizabeth, consoler of all sorrows,*
St. Elizabeth, teacher of the poor,*
St. Elizabeth, seeker of contumely and affronts,*
St. Elizabeth, distributor of thy riches to thy poor neighbors,*
St. Elizabeth, patient in adverstity,*
St. Elizabeth, maker of vestments for the poor,*
St. Elizabeth, hospitable receiver of pilgrims and the sick,*
St. Elizabeth, succor of the needy,*
St. Elizabeth, formidable to demons,*
St. Elizabeth, example of all spiritual perfection,*
St. Elizabeth, represser of all vain and dissolute conversation,*
St. Elizabeth, cheered by angelic choirs in thy last agony,*
St. Elizabeth, miraculous in life,*
St. Elizabeth, helper of our devotions,*
St. Elizabeth, our sweetest patron,*
Lamb of God, Who takest away the sins of the world:
Spare us, O Lord!
Lamb of God, Who takest away the sins of the world:
Graciously hear us, O Lord!
Lamb of God, Who takest away the sins of the world:
Have mercy on us, O Lord!
Christ, hear us.
Christ, graciously hear us.
Pray for us, blessed Elizabeth:
That we may be made worthy of the promises of Christ.
Let us pray:
Enlighten, O God of compassion, the hearts of Thy faithful servants, and through the glorious prayers of blessed Elizabeth, make us to despise the pleasing things of this world, and ever to delight in the consolations of heaven. Through Christ our Lord. Amen. (Or this):


O God of tender mercies, pour forth Thy light over the hearts of Thy faithful people: and graciously listening to the glorious prayers of blessed Elizabeth, make us to think little of worldly prosperity and to be ever gladdened by heavenly consolation. Through our Lord, etc. Amen.
_______________________________
St. Elizabeth of Hungary, Landgravine of
Hesse and Thuringia
(by Father Francis Xavier Weninger, 1876)
St. Elizabeth, a model of devotion and purity to those who live singly, a mirror of love and retirement for married people, a most perfect example of patience for widows, and whose virtues deserve to be followed by all, high and low, was born in Hungary. She was a daughter of Andrew II., King of Hungary, and of Gertrude, daughter of the Duke of Carinthia. According to the Roman Breviary, Elizabeth began in early childhood to fear God, and increased in piety with age. The walk she loved best of all was going to church, where she prayed with angelic devotion, and whence it was a difficult task to bring her home, as her greatest delight consisted in praying. At the door of the church, she always took off the jewelled coronet which she wore, and when asked why she did this, she replied: "God forbid that I should ever appear with such a crown before the face of Him who was crowned with thorns, and who, out of love for me, was nailed to the cross." She called Mary, the divine Mother, her mother, and entertained great devotion towards St. John, the Apostle and Evangelist, whom she chose as the special protector of her chastity. She never refused what was asked of her in the name of the Blessed Virgin or in that of St. John. The money allotted to her for her recreation, she gave to the poor, requesting them to say the Ave Maria. She was an enemy to luxury, vain adornments and idleness. Nature had not only bestowed upon her unusual personal beauty, but had also endowed her with great qualities of mind.

In obedience to her parents, she gave her hand to Louis, Landgrave of Hesse and Thuringia, and lived with him in continual harmony, her conduct being as blameless in the married state as it had been during her maidenhood. She gave one hour every night to prayer, and spent the day in attendance at the divine service in the church, in devout reading and in working for the poor. She always treated her husband with love and respect, and was a model of all virtues to her subjects. She watched over her domestics with a most careful eye, in order that they might lead a Christian life ; but took always a mother's interest in seeing that their wages were punctually paid. She herself carried to the church the princes and princesses to whom she gave birth; and it was her custom, on these occasions to lay a rich offering on the Altar, and to give abundant alms to the poor. Under her royal robes, she continually wore a garment of hair-cloth.

For the sick and the forsaken she had more than a mother's care and solicitude. She erected a hospital in which she nursed the sick and sheltered orphans; besides feeding nine hundred poor people, every day, at the palace, and sending alms to the dwellings of those who were ashamed to beg. She also visited the sick in their houses, and served them most tenderly even when they were leprous. She kissed their hands and feet, and encouraged them to patience. Never did a poor person leave her without receiving alms, and more than once, when she had no money with her, she gave away the veil from her head. She did not hesitate even to mend the clothes of the needy, and during a severe famine, gave all her corn to the sufferers. In one word, she did not neglect anything that Christian charity could do; so that she was universally called the mother of the poor.

There were at court many who, on account of her great charity, laughed at and derided her; some even accused her of extravagance. Elizabeth, however, did not allow herself to be diverted from her deeds of kindness, and the Landgrave dismissed her accusers with indignation, probably because he perceived that the more charitable his spouse was, the more he was blessed with temporal goods. Hence he not only abstained from disturbing her in her kind deeds, but assisted her in them as long as he lived. He ended his life in a crusade, in which he joined with several other Christian princes in order to conquer the Holy Land from the infidels. Elizabeth grieved deeply when the news of his death reached her, but submitted to the will of the Almighty, saying: "It is known to Thee, O my God, that I loved no one on this earth more than my husband; not only because he was my husband, but also because he loved Thee with his whole heart. But as it has pleased Thee to call him, I am well contented with Thy holy will; and if I could, against Thy decree, raise him from the dead by reciting one Pater Noster, I would not do it. I only beg of Thee to give him eternal peace, and bestow upon me the grace to serve Thee faithfully until the end of my days." After this heroic submission to the will of God, she caused many masses and prayers to be said for the deceased, gave large alms to the poor, divested herself of her royal robes, and, though but twenty years old, she vowed to live in chaste widowhood for the rest of her days.

It pleased the Almighty to try His zealous handmaid most painfully. The nobility made the brother of the deceased Landgrave regent, and accused the holy princess of having impoverished the state by her charity to the poor. Under this pretext, they deprived her of all her possessions, and banished her from the Court, with three children, a son and two daughters. Her former vassals, fearing to draw upon themselves the disfavor of the new government, durst not give her lodgings. Even the hospitals, which she herself had founded, were closed against her. Hence she had to lodge mostly in a stable and to live on the bread she begged. In such unexpected and more than painful circumstances, St. Elizabeth showed a truly heroic, and, to the children of the world, incomprehensible strength and patience. She complained to no one of the injustice of the nobility, not even to her royal father, who was still living; but rejoiced that she could suffer for the love of God. After the first night of her banishment, she went to the Church of the Franciscans and requested them to sing the "Te Deum," or "Great God! we praise thee," to give thanks to God for the sorrows with which He had visited her.

The wrongs and outrages which the holy princess suffered, besides her banishment, can hardly be described. An old woman, who had formerly received clothing and nourishment from St. Elizabeth, dared to push her into a pool of stagnant water, in the street, abusing her at the same time most shamefully, for not having immediately made way for her. This outrage aroused not in the least the wrath of the holy princess; she quietly raised herself out of the pool, cleansed her garments, and offered herself to the Almighty for more suffering. God did not fail to comfort His handmaid in her adversity. Christ appeared to her, during her prayers, encouraged her, and promised never to abandon her. After some time, through her father's influence, a dwelling, suitable to her rank, was conceded to her, and her dowry was refunded. The Saint immediately used one part of the building for a hospital, made her home in the same, and nursed the sick, as if she had been a servant, hired to wait upon them. All her spare time was employed in prayer and other devout exercises. She also chastised her body by fasting and other penances.

At the age of twenty-four years, she learned by revelation, that her end was approaching, for which she prepared herself by most devoutly receiving the holy sacraments. She exhorted all those who were around her death-bed, to love God with their whole heart and to assist the poor to the best of their ability. After this, she continued in prayer, until her soul, richly adorned with virtues and merits, went to her Creator, in the year of Our Lord 1231.
PRACTICAL CONSIDERATIONS.
I. The life of St. Elizabeth may serve as a model to persons of every age and station. Children may learn to fear God from their earliest years, and to increase their devotion with their age; single persons, how to live chastely in their state; married people, how husband and wife ought to live together; and the widowed how to sanctify their solitude. Masters and mistresses may learn how to take care of their domestics, and pay their wages regularly. Those of a higher station may learn to set a good example to others, and not to be ashamed to appear at public worship. All Christians can find instruction in it, for employing their time well, helping the needy, and bearing crosses and trials sent by heaven. God permitted a Landgravine, a royal princess, to be banished unjustly from court, to beg her bread, and, besides other ignominies, to be refused a shelter among her own subjects. Still she complained not; but, submissive to the decrees of Providence, gave humble thanks for the Almighty for all that He, in His wisdom, had sent her. Even at the death of her husband, what fortitude, what submission to the divine will she manifested! Oh! that all would endeavor, in trials of much less severity, to unite their will with that of God, and patiently bear the cross that He has laid upon them.

II. The favorite walk of St. Elizabeth, when she was still a child, was to go to church, where she manifested most angelic devotion, and was so happy, that she could hardly be persuaded to leave. What is your favorite walk? Where do you like to remain? And when you do go to church why are you in such haste to leave it again? Why do you much oftener go to theatres, frivolous societies, vain amusements, bar-rooms and ball-rooms, than to Church, to prayers, to sermons, or to public worship? Why does the sermon, the mass, or conversation with God in prayer so soon become wearisome to you, when many hours, nay, even half the day or night seem not long, when you occupy them in gaming, dancing, or silly conversation? Answer these questions if you can; and then tell me, do you expect to justify yourself before God, and to enter the same heaven into which St. Elizabeth entered? "Ah! truly, heaven becomes not the dwelling of those who sleep and are idle, but of those who earnestly endeavor to gain it." Thus speaks the holy pope, St. Leo.
_______________________________
Prayer to St. Elizabeth of Hungary
(Can be prayed as a novena for nine consecutive days)
Blessed Elizabeth, vessel elect of exalted virtues, thou dost show forth to the world by thy example what the virtues of Faith, Hope, and Charity are able to do in a Christian soul. Thou didst employ all the powers of thy heart to love thy God alone. Thou didst love Him with a love so pure and fervent that it rendered thee worthy to taste upon earth beforehand those favours and those sweetnesses of Paradise which are communicated to souls invited to the nuptials of the Divine adorable Lamb of God.
Thou, illuminated by supernatural light and faith immovable, didst show thyself to be a true daughter of the Holy Gospel, by seeing in the person of thy neighbour the Person of our Lord Jesus Christ, sole object of thy affections; and therefore didst thou place all thy delight in holding converse with the poor, in serving them, in drying their tears and comforting their spirits, in assisting them with every pious good office, in the midst of pestilence and the miseries to which our human nature is subject.
Thou didst make thyself poor in order to succour thy neighbour in his poverty--poor in the good things of earth, to enrich thyself with the goods of heaven. Thou wast so humble that, after thou hadst exchanged a throne for a poor hovel, and a royal mantle for the modest habit of St Francis, thou didst subject thyself, innocent though thou wast, to a life of privation and of penance, and with holy joy didst embrace the cross of thy Redeemer, with goodwill accepting with Him insults and the most unjust persecution: thus didst thou forget the world and thyself, to remember thy God alone.
Dearest Saint, who wast so beloved by God, vouchsafe to be the heavenly friend of our souls, and help them to become ever more and more acceptable to Jesus. Cast down upon us from the height of heaven one of those tender looks which, when thou wast upon earth, healed the most distressing infirmities. In this our age, so depraved and corrupt, and at the same time so cold and indifferent to the things of God, we have recourse to thee with confidence, in order that we may receive from our Lord light for the understanding and strength for the will, and thence obtain peace of soul.
Whilst we bless the Lord for having glorified his name in this world with the splendour of thy heroic virtues and the eternal reward accorded to them, do thou bless them, O dear St. Elizabeth, from that Blessed throne which thou dost occupy close to the Saint of Saints; protect us in our dangerous pilgrimage; obtain for us the pardon of our sins, and open for us the way to enter and share with thee the Kingdom of God. Amen.
(Indulgence 300 Days)
_______________________________
Saint Elizabeth of Hungary, Duchess of Thueingia
from the Liturgical Year, 1901
Although the blessed in heaven shine each with his own peculiar glory, God is pleased to group them in families, as He groups the stars in the material firmament. It is grace that presides over the arrangement of these constellations in the heaven of the Saints; but sometimes it seems as if God wished to remind us that He is the sole Author of both grace and nature; and inviting them, in spite of the fall, to honour Him unitedly in His elect, he causes sanctity to become a glorious heirloom, handed down from generation to generation in the same family on earth. Among these races, none can compare with that royal line which, beginning in ancient Pannonia, spread its branches over the world in the most flourishing days of Christendom: Rich in virtue and studying beautifulness (Eccli. xliv. 6), as Scripture says, it brought peace into all the royal houses of Europe, with which it was allied; and the many names it has inscribed in the golden book of the blessed, perpetuate its glory.

Among these illustrious names, and surrounded by them as a diamond set in a circle of pearls, the greatest, in the esteem of the Church and of the people, is that of the amiable Saint, who was ripe for heaven at the age of twenty-four years, and who ascended on this day into the company of Stephen, Emeric, and Ladislas. Elizabeth was not inferior to them in manly virtues; but the simplicity of her loving soul added to the heroism of her race a sweetness, whose fragrance drew after her along the path of sanctity her daughter Gertrude of Thuringia, and her relatives Hedwige of Silesia, Agnes of Bohemia, Margaret of Hungary, Cunigund of Poland, and Elizabeth of Portugal.

All the poetry of those chivalrous times appears in the beautiful pages of contemporaneous writers, as they describe to us the innocent child, transplanted like a tender flower from the court of Hungary to that of Thuringia; and her life of devotedness there, with a bridegroom worthy to witness the ecstasies of her lofty but ingenuous piety, and to defend her heroic virtue against her slanderers. To the stewards who complained that during the absence of Duke Lewis she had, in spite of their remonstrances, exhausted the revenues upon the poor, he replied: "I desire that my Elizabeth be at liberty to act as she wishes, provided she leaves me Warteburg and Naumburg." Our Lord opened the landgrave's eyes to see transformed into beautiful roses the provisions Elizabeth was carrying to the poor. Jesus crucified appeared in the leper she had taken into her own apartments that she might the better tend him. If it happened that illustrious visitors arrived unexpectedly, and the duchess having bestowed all her jewels in alms was unable to adorn herself becomingly to do them honour, the Angels so well supplied the deficiency that, according to the German chroniclers of the time, it seemed to the astonished guests that the Queen of France herself could not have appeared more strikingly beautiful or more richly attired.

Elizabeth indeed was never wanting to any of the obligations or requirements of her position as a wife and as a sovereign princess. As graciously simple in her virtues as she was affable to all, she could not understand the gloomy moroseness which some affected in their prayers and austerities. "They look as if they wanted to frighten our Lord," she would say, " whereas He loves the cheerful giver." The time soon came, when she herself had to give generously without counting the cost. First there was the cruel separation from her husband, Duke Lewis, on his departure for the crusade; then the heart-rending scene, when his death was announoed to her, just as she was about to give birth to her fourth child; and thirdly the atrocious act of Henry Raspon, the landgrave's unworthy brother, who, thinking this a good opportunity for seizing the deceased's estates, drove out his widow and children, and forbade anyone to give them hospitality. Then in the very land where every misery had been succoured by her charity, Elizabeth was reduced to the necessity of begging, and not without many rebuffs, a little bread for her poor children, and of seeking shelter with them in a pig-sty.

On the return of the knights who had accompanied Duke Lewis to the Holy Land, justice was at length done to our Saint. But Elizabeth, who had become the passionate lover of holy poverty, chose to remain among the poor. She was the first professed Tertiary of the Seraphic Order; and the mantle sent by St. Francis to his very dear daughter, became her only treasure. The path of perfect self-renunciation soon brought her to the threshold of heaven. She who, twenty years before, had been carried to her betrothed in a silver cradle, and robed in silk and gold, now took her flight to God from a wretched hovel, her only garment being a patched gown. The minstrels, whose gay competitions had signalized the year of her birth, were no longer there; but the Angels were heard singing, as they bore her up to heaven: The kingdom of this world have I despised, for the love of Jesus Christ my Lord, whom I have seen, whom I have loved, in whom I have believed, whom I have tenderly loved.

Four years later, Elizabeth, now declared a Saint by the Vicar of Christ, beheld all the nations of the holy Empire, with the emperor himself at their head, hastening to Marburg, where she lay at rest in the midst of the poor whose life she had imitated. Her holy body was committed to the care of the Teutonic Knights, who in return for the honour, made Marburg one of the head-quarters of their Order, and raised to her name the first Gothic church in Germany. Numerous miracles long attracted the Christian world to the spot.

And now, though still standing, though still beautiful in its mourning, St. Elizabeth's at Marburg knows its glorious titular only by name. And at Warteburg, where the dear Saint went through the sweetest episodes of her life as a child and as a bride, the great memorial now shown to the traveller is the pulpit of an excommunicated monk (Luther), and the inkstain with which, in a fit of folly or drunkenness, he had soiled the wall, as he afterwards endeavoured with his pen to profane and sully everything in the Church of God.




Hymn to St. Elizabeth:
The Church in joyous accents sings a hymn to God; Sion is in gladness, rejoicing with her daughter who ascends from the valley of misery.

Born of royal race, she is affianced while yet a babe; her husband finds her adorned with every gift and enamoured of purity.

Their union is hallowed by fidelity, fecundity, and the grace of the Sacrament; Elizabeth's increasing holiness proves that she is being led to the company of her fathers in heaven.

Though subject to the law of the flesh, her spirit was not quenched; faithful to her sacred engagements, she obeyed the inspirations her willing heart received from God.

She became the noble and blessed feeder of the poor; neither by worldly glory nor by her kingly origin was she elated, but she crucified the vices in her mortified flesh.

The enemy of innocence asked her for water, at Sisara asked Jahel; she deceived him with milk, and transpiercing him with the nail of penance, she delivered herself by her virtue of patience.

Bereaved of her husband, she abandoned the world, unsullied by its contact; and having already put on Christ interiorly, she now clothed her body with sack-cloth, and, even in the time of her mortality, shone as a bright lamp.

Buying true riches at the price of poverty, she poured out the golden treasures of her piety, and supplied the needs of innumerable poor.

Working with her spindle, she earned her daily bread; and, vile in her own eyes she made light of shame, knowing that to Thee alone, O Christ, honour is due.

Glory be to Thee, O good Jesus, both now and for ever; for thou faithfully assistest them that fight the good fight, and rewardest the valiant victor with a crown. Amen.





Prayer:
What a lesson thou leavest to the earth, as thou mountest up to heaven, O blessed Elizabeth! We ask with the Church, for ourselves and for all our brethren in the faith: may thy glorious prayers obtain from the God of mercy that our hearts may open to the light of thy life's teaching, so that despising worldly prosperity we may rejoice in heavenly consolations. The Gospel read in thy honour today tells us that the kingdom of heaven is like to a hidden treasure, and to a precious pearl; the wise and prudent man sells all he has, to obtain the treasure or the pearl. Thou didst well understand this good traffic, as the Epistle calls it, and it became the good fortune of all around thee: of thy happy subjects, who received from thee succour and assistance for both soul and body, of thy noble husband, who found an honourable place among those princes who knew how to exchange a perishable diadem for an eternal crown; in a word, of all who belonged to thee.

Thou wast their boast; and several among them followed in thy footsteps along the heavenward path of self-renunciation. How is it that others, in an age of destruction, could abjure their title of children of Saints, and draw the people after them to deal so wantonly with the sweetest memorials and the noblest traditions? May our Lord restore to His Church and to thee the country where thou didst experience his love; may thy supplications, united with ours, revive the ancient faith in those branches of thy stock which are no longer nourished with that life-giving sap; and may the glorious trunk continue, in its faithful branches, to give saints to the world.
http://catholicharboroffaithandmorals.com/