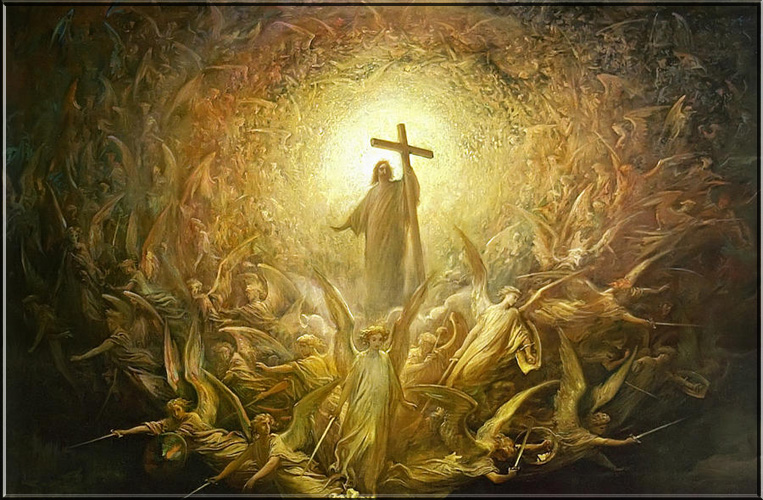 (Day of Wrath)

by Rev. Nicholas Gihr

Dogmatically and Ascetically Interpreted for the Devotional Reading
and Meditation on the End of the World and the Last Judgement
Like the "Stabat Mater," the "Dies Irae" was originally intended for private devotion,--a sort of pious meditation on the Last Judgment, whose appeal lay in the graphic portrayal of the emotions that fill the soul of man when, conscious of his guilt, he is reminded of the all-knowing and just Judge. Its excellence caused its adoption as a sequence in the Mass for the Dead as early as the second half of the fourteenth century, but it was not until the sixteenth century that its use became universal through a rubric of the Roman Missal as revised by Pius V.

The "Dies Irae rests upon a biblical foundation. The contents of the sequence are taken mainly from the prophetical descriptions of the Old Testament, from the eschatological sermons of Christ, and from the teaching and the references of the Apostles concerning the consummation of the world. The description of Christ's return as Judge of the universe is in full harmony with Holy Scripture, especially the Letters of the Apostles. The time when the end of the world will come is, and will ever remain, a sealed mystery to angels and men. Even the Divine Master refused to answer the question when put by His Apostles (Matth. XXIV, 36), but admonished them to be watchful and ready at any time to render an account of themselves, as the Son of Man would come suddenly and unexpectedly.

Because of these repeated warnings of their Divine Master, the Apostles very properly believed it possible that the second coining of Christ, and with it the end of the world, might take place within their own life-time. "Watch ye, therefore, because you know not the day nor the hour." (Matth. XXV, 13.) "Watch ye, therefore, praying at all times that you may be accounted worthy to escape all these things that are to come, and to stand before the Son of Man." (Luke XXI, 36.) "It is not for you to know the times or moments, which the Father hath put in his own power," (Acts I, 7.)

Since the Messianic or Christian Era, referred to by St. Peter as "the last times" (I Peter I. 20), marks the beginning of the closing period of the world's history, the second coming of Christ as Judge may occur at any time, and in this sense it is ever near at hand. Therefore the Apostles frequently dwelt upon Christ's Second coming, and particularly during the early days of suffering and persecution this thought was a source of comfort as well as a means of strengthening their confidence and encouraging them to persevere in following Christ. In a similar way the second coming of Christ is presented for our meditation in the "Dies Irae."

The thought of the "last trumpet" that will one day summon all men to the Resurrection and the Judement, ought to rouse us from the fatal sleep of sin, and transform our indifference and lukewarmness, our negligence and sloth into earnest watchfulness and zealous pursuit of virtue.
For additional exerpts from the book "Dies Irae", please click here.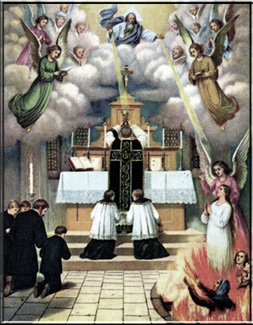 Dies Irae: Latin and English



The opening words of the sequence proper to requiem Masses, whereby the hymn is known. It must be said at the three Masses of All Souls' day, in funeral Masses and in all requiem Masses at which only one collect is said; at other requiems it is optional. Moreover it must be said by the celebrant and sung by the choir at all High Masses of requiem, nor may any of the 19 stanzas be omitted.



| | |
| --- | --- |
| DIES IRAE, dies illa: | THAT DAY of wrath, that dreadful day, |
| Solvet saeclum in favilla | When heaven and earth shall pass away, |
| Teste David cum Sibylla. | Both David and the Sibyl say. |
| Quantus tremor est futurus, | What terror then shall us befall, |
| Quando iudex est venturus, | When lo, the Judge's steps appall, |
| Cuncta stricte discussurus! | About to sift the deeds of all. |
| Tuba mirum spargens sonum | The mighty trumpet's marvellous tone |
| per sepulchra regionum, | Shall pierce through each sepulchral stone |
| Coget omnes ante thronum. | And summon all before the throne. |
| Mors stupebit et natura | Now Death and Nature in amaze |
| Cum resurget creatura | Behold the Lord His creatures raise, |
| Judicanti responsura. | To meet the Judge's awful gaze. |
| Liber scriptus proferetur, | The books are opened, that the dead |
| In quo totum continetur, | May have their doom from what is read, |
| Unde mundus judicetur. | The record of our conscience dread. |
| Judex ergo cum sedebit, | The Lord of Judgment sits Him down, |
| Quidquid latet, apparebit: | And every secret thing makes known; |
| Nil inultum remanebit. | No crime escapes His vengeful frown. |
| Quid sum miser tunc dicturus, | Ah, how shall I that day endure? |
| Quem patronum rogaturus, | What patron's friendly voice secure. |
| Cum vix justus sit securus? | When scarce the just themselves are sure? |
| Rex tremendae majestatis, | O King of dreadful majesty. |
| Qui salvandos salvas gratis, | Who grantest grace and mercy free, |
| Salva me, fons pietatis. | Grant mercy now and grace to me. |
| Recordare, Jesu pie, | Good Lord, 'twas for my sinful sake, |
| Quod sum causa tuae viae: | That Thou our suffering flesh didst take, |
| Ne me perdas illa die! | Then do not now my soul forsake. |
| Quaerens me, sedisti lassus: | In weariness Thy sheep was sought; |
| Redemisti Crucem passus: | Upon the Cross His life was bought; |
| Tantus labor non sit cassus! | Alas, if all in vain were wrought. |
| Juste judex ultionis, | O just avenging Judge, I pray, |
| Donum fac remissionis | For pity take my sins away, |
| Ante diem rationis. | Before the great accounting-day, |
| Ingemisco, tamquam reus: | I groan beneath the guilt, which Thou |
| Culpa rubet vultus meus: | Canst read upon my blushing brow; |
| Supplicanti parce, Deus. | But spare, O God, Thy suppliant now. |
| Qui Mariam absolvisti | Thou who didst Mary's sins unbind |
| Et latronem exaudisti, | And mercy for the robber find, |
| Mihi quoque spem dedisti. | Dost fill with hope my anxious mind. |
| Preces meae non sunt dignae: | My feeble prayers can make no claim, |
| Sed tu bonus fac benigne, | Yet, gracious Lord, for Thy great Name, |
| Ne perenni cremer igne. | Redeem me from the quenchless flame. |
| Inter oves locum praesta, | At Thy right hand, give me a place |
| Et ab haedis me sequestra, | Among Thy sheep, a child of grace, |
| Statuens in parte dextra. | Far from the goats' accursed race. |
| Confutatis maledictis, | Yea, when Thy justly kindled ire |
| Flammis acribus addictis: | Shall sinners hurl to endless fire, |
| Voca me cum benedictis. | Oh, call me to Thy chosen choir. |
| Oro supplex et acclinis, | In suppliant prayer I prostrate bend, |
| Cor contritum quasi cinis: | My contrite heart like ashes rend, |
| Gere curam mei finis. | Regard, O Lord my latter end. |
| Lacrimosa dies illa, | When man to judgment wakes from clay, |
| Qua resurget ex favilla | Oh, on that day, that tearful day, |
| Judicandus homo reus: | Be thou the trembling sinner's stay, |
| Huic ergo parce Deus: | And spare him, God, we humbly pray. |
| Pie Jesu Domine, | Yea, grant to all, O Saviour Blest, |
| Dona eis requiem. Amen. | Who die in Thee, the Saints' sweet rest. Amen. |
Download the book, "Dies Irae"
http://catholicharboroffaithandmorals.com/