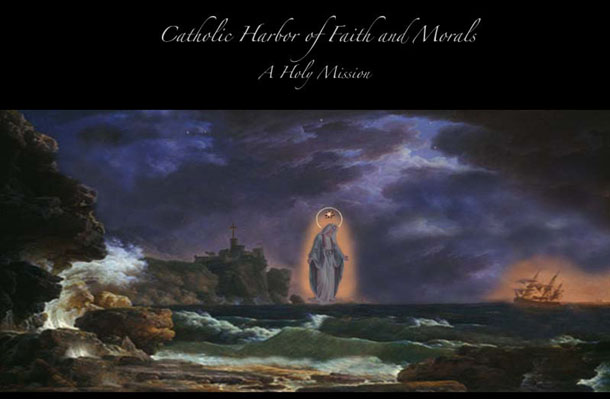 Mission Statement
C
atholic Harbor of Faith and Morals is dedicated to Ave Maris Stella, Our Lady Star of the Sea. It is our hope that through her intercession and patronage, souls shipwrecked in the seas of immorality and errors of faith may find safe harbor in the infallible teachings of the Roman Catholic Church. This site functions as a Holy Mission in these days of universal apostasy, providing traditional sermons, devotions and meditations for the edification of the faithful and conversion of sinners. While reading the material on Catholic Harbor, great effort should be made to withdraw oneself from worldly distractions, so as to focus on the primary purpose of life--the salvation of your immortal soul.          
A
ll of our sermons, prayers, and teachings date long before the heretical Council of Vatican II (1962-1965), relying primarily upon the infallible teachings from the Council of Trent (1545-1563). With unwavering confidence, we rest in the traditions of our faith (both oral and written as handed down to the Apostles by Jesus) knowing that Christ and His Church are Immutable, "Jesus Christ yesterday and today, and the same forever"--Hebrews 13, 8. "Truth does not and cannot change; it is ever the same. If it did change, it could change only to error and falsehood, and then would of course cease to exist. Thus does truth perish. It is therefore required of every man (and especially to the Church founded by Christ upon the rock of Peter) not to depart one jot or tittle from those truths which God has revealed, and to remain in possessing and propounding them as firm, as unyielding, as immutable as the everlasting hills. For if there be many folds and one as good as another, what becomes of truth and loyalty to truth, since truths received in one place are rejected in another, beliefs honored today are cast off tomorrow, creeds, the expression of those truths and beliefs, are tinkered to suit passing fancy or popular passion! What is all this maze of contradiction but the destruction of truth! And when each is taught to believe what he likes, what is this huge compromise with error but the denial of truth!
         "
C
ommon sense makes it clear to us that contradiction is the destruction of truth, that compromise with error is its denial. To allow a thing to be at one and the same time true and false, is to stultify oneself mentally and morally. To let go the truth once consciously possessed, is the lowest form of moral cowardice; to receive as truth that which is not known to be the truth, is a crime against the human mind and Almighty God. No official expounder of Divine teachings can allow them to be altered under penalty of making God a liar, God Who is Truth Itself. It is in obedience to this fundamental principle that the Catholic Church as the One true Fold has always put forth Unity as one of her marks of Divine origin and remained faithful to it even when men would prefer otherwise. God is not where disorder is; His truth is not where contradiction is. His revealed Word, having been delivered into the keeping of man, is to be found where the teaching is one, as truth is one and as God is one"--taken from the sermon of Rev. John Stapleton on the Catholicity of the Church.          
I
n conformity with truth, Catholic Harbor rejects the systematic dismantling of the visible Church brought about by the last six anti-popes (from anti-pope John XXIII to Francis I). St. Vincent of Lerins declares "All novelty in faith is a sure mark of heresy" and "when a foulness invades the whole Church, we must return to the Church of the past." No one--be it a priest, bishop or Pope--can depart from the Deposit of Faith and teach contrary to the infallibly defined doctrines of the Catholic Church without severing himself from her. St. Paul explains, "But though we, or an angel from heaven, preach a Gospel to you besides that which we have preached to you, let him be anathema"--Gal. 1, 8. Sermons and teachings, prayers and devotions that we have set forth in defense of the Catholic Faith are not to be falsely attributed as defending the current post Vatican II. sect which is not the Church founded by Christ but rather a manmade, Freemasonic religion schismed from the true Church by manifest heresy.          
F
inally, we have attempted to employ the Church's great treasure of art and music to further set the scene for the sermons and teachings of Catholic Harbor. This is not a completed work but represents a maiden voyage. Additional material will be added regularly. We are a non-commercial, non-profit site established for the education of the general public. Copyrighted material are thus presented in compliance with the United States Copyright Laws of "fair use."

Musica Sacra: Ave Maria
Genre: Sacred Motet
Composer: Thomas De Victoria (1548 - 1611)
Period: Counter Reformation





http://catholicharboroffaithandmorals.com/