(Feast Day December 6th, Patron of Children, Sailors, and Prisoners)
A Prayer of Petition to St. Nicholas
Glorious Nicholas, my own protector! from that bright throne where thou dost enjoy the vision of thy God, in pity turn thine eyes upon me; ask for me from God those graces and helps most seasonable in my present necessities, whether spiritual or temporal, and especially the grace of . . . . . . if such be expedient for my eternal welfare. Forget not, glorious and holy bishop, our Sovereign Pontiff, the holy Church, and this pious city. Bring back to the right way of salvation those who live steeped in sin, or buried in the darkness of ignorance, error, and heresy. Comfort the sorrowing, provide for the needy, strengthen the weak-hearted, defend the oppressed, help the sick; let all know the effects of thy powerful patronage with Him Who is the supreme giver of all good. Amen

Our Father, Hail Mary, Glory be to the Father.

V. Pray for us, blessed Nicholas.
R. That we may made worthy of the promises of Christ.

Let us pray:

God, Who has honored, and ceasest not daily to honor, Thy high-priest and glorious confessor, blessed Nicholas, with innumerable miracles: grant, we beseech Thee, that, by his merits and prayers, we may be delivered from the fires of hell and from all other dangers. Through Christ our Lord. Amen.



(Indulgence of 50 days, Pope Gregory XVI.)
______________________________
Invocation
Saint Nicholas, glorious Confessor of Christ, assist us in thy loving kindness.


(Indulgence 100 days)
______________________________
Prayer to St. Nicholas as your Patron Saint
Saint Nicholas, whom I have chosen as my special patron, pray for me that I, too, may one day glorify the Blessed Trinity in heaven. Obtain for me your lively faith, that I may consider all persons, things, and events in the light of almighty God. Pray, that I may be generous in making sacrifices of temporal things to promote my eternal interests, as you so wisely did.

Set me on fire with a love for Jesus, that I may thirst for His sacraments and burn with zeal for the spread of His kingdom. By your powerful intercession, help me in the performance of my duties to God, myself and all the world.

Win for me the virtue of purity and a great confidence in the Blessed Virgin. Protect me this day, and every day of my life. Keep me from mortal sin. Obtain for me the grace of a happy death. Amen


______________________________
St. Nicholas, Bishop of Myra
by Father Francis Xavier Weninger, 1876
St. Nicholas, whom the Almighty honored with numberless miracles, was born at Patara, in Lycia, of rich and pious parents, who having lived a long time without issue, at last, after many prayers, were rejoiced by the Lord with a son. It was a remarkable fact that Nicholas, when an infant, on Wednesdays and Fridays, refused to take nourishment from his mother's breast until nightfall; and this custom of partaking of no food on those days, he observed as long as he lived. When sent to school, he carefully avoided all interaction young men, and still more with the other sex. He shunned all occasions of evil, chastised his body by watching, fasting, wearing a penitential girdle, and read only such books as aided him to acquire virtue and knowledge. In this manner he preserved his innocence inviolate through all dangers. Having made great progress in virtue and knowledge, he was ordained priest by the bishop of Myra, who was his God-father. As he felt himself obliged by the sacredness of his station to strive to attain greater virtue, he redoubled his austerities, his fervor in prayer, and his zeal in doing good. The rich inheritance which came into his possession after the death of his parents, was employed only to relieve and comfort the needy.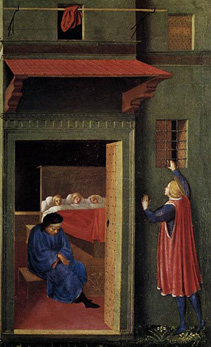 Among these were three young virgins whom their father, impoverished by misfortune, had advised to maintain themselves at the cost of their virtue, as he saw no means to provide for them. St. Nicholas, having heard this, went, during the night and threw into the father's room, through the window, as much money as was necessary to give one of the three maidens a marriage dower. The same was done, after a lapse of some time, for the second and the third; and, by this noble work of charity, the father and the daughters were saved from temporal and eternal ruin. After some time, by order of the bishop of Myra, Nicholas was charged with the care of a monastery, and performed this task with great prudence and care.
Meanwhile, his heart was filled with the desire to visit the Holy Land, and to pass the remainder of his life in solitude. The day on which he set sail he prophesied to the sailors that they would soon encounter a severe storm. The sailors, thinking they were better skilled in such matters, laughed at him, but the issue showed that the Saint was right; for so terrific a storm arose that all on board thought themselves lost. Hence they begged the Saint, as God had revealed to him the danger, to implore Him to turn it from them. Hardly had the holy man begun to pray when the winds abated and the storm ceased. Similar miracles the holy man performed frequently; hence he is honored and invoked as a special patron of sailors. In Palestine he visited the holy places with great devotion, and made the resolution to remain there in some retired spot, where he might serve the Almighty undisturbed. But, by divine admonition, he returned to his monastery, where he did not remain long, as God inspired him to go to Myra, the capital of Lycia.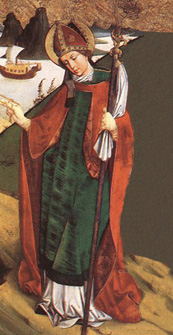 The bishops of that country had just assembled at Myra, to elect a successor to the late bishop, and while they were praying to be guided by heaven in their choice, God revealed to one of them that they should choose him who, on the following morning, should first enter the church, and whose name was Nicholas. St. Nicholas, knowing nothing of what had passed, was the first who entered the church the next morning. A bishop who had been appointed to be there, having asked his name, took him by the hand and led him to the assembled prelates, who informed him of the divine will and consecrated him bishop in spite of the tears he shed and the objections he offered.
Nicholas considering that so high an office required high virtues, endeavored to lead a still more perfect life than before. He practised severe penance, partook daily of one meal only, and never touched meat; took his short rest on the bare floor, gave all the time left to him from the administration of his functions to prayer, daily said holy Mass, at which he often shed many tears; visited the prisoners, the sick, and the poor of the city, among whom he divided almost all his income; preached on all Sundays and Holydays, and frequently visited the churches and parishes of his diocese, providing all with able priests and a sufficient income. In one word, he did all that could be expected of a bishop, who perfectly fulfilled his sacred duties. At that period there were still many pagans in Myra, besides an idolatrous temple, and the emperor sent his officers to exterminate Christianity and restore the pagan worship. On this occasion our holy bishop showed his generous seal. He went through all the streets and into all the houses exhorting the Christians to remain faithful to Christ, without fearing for himself either danger, persecution or death. He was seized, dragged out of the city, and cast into a dungeon, where he remained until Constantine the Great ascended the throne. The holy bishop experienced the greatest joy when this emperor gave orders to demolish the idolatrous temples and to build churches in their places. He himself assisted at the work and rested not until all pagan temples had disappeared from his diocese. Some time later an opportunity presented itself to him to fight against the Arian heresy, which he condemned in the Council of Nice.
The many and great miracles that he performed and the fame of his holiness gave him great consideration. Eustathius, an avaricious officer, had condemned to death three innocent citizens, living not far from Myra, in order that he might take possession of their property. No sooner had St. Nicholas been informed of this than he hastened to the place, where he found the three men already in the hands of the executioner. The Saint ran towards him and took the sword from him; he then reproved the wicked judge with severe words, and thus freed the innocent persons, amid the great rejoicings of the people.
Still more remarkable is the following: Constantine, the emperor, had condemned three of his most renowned generals to death, on false accusations. These, having heard much of the holiness of the Bishop of Myra, called on God to come to their aid for the sake of His servant. In the night before the day on which the sentence on the three prisoners was to be executed, Constantine saw St. Nicholas standing before him, threatening him with divine vengeance if he did not immediately recall the sentence against the innocent men. In the same manner the Saint appeared to the unjust accuser. Both, greatly frightened, set the prisoners free, and sent them with many rich gifts to St. Nicholas, to thank him for having thus protected them.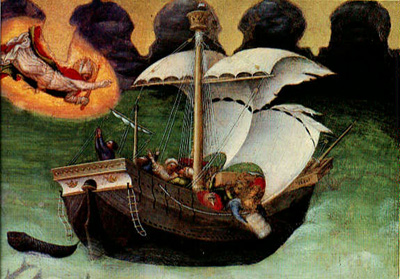 Almost at the same time the Saint appeared to some sailors who were in great danger of being wrecked, and had invoked him. They saw him at the helm, guiding the ship safely to land. When they expressed their gratitude to him, he said: "My children, give honor to God; I am but a poor sinner." Taking them aside, he said that their sins, which he named to them, had been the cause of the danger they experienced, admonished them to repent, and then dismissed them. On account of this and numberless other miracles, the holy bishop was called the Thaumaturgus, or Wonder-worker of his age. All his biographers unite in saying that he raised many dead to life. Among these were three children who had been-cruelly murdered and cast into a tub; and this miracle is frequently represented by artists in their pictures of the Saint.

Although St. Nicholas was gifted with such high graces, and administered his episcopal functions so well, he yet feared that he did not do enough, and frequently prayed to God to release him from this burden. A voice from heaven, however, encouraged him, saying: "Fear not, Nicholas, I will recompense thy faithful services." God also revealed to him the day and hour of his death, and the Saint, rejoicing soon to see the Lord, received with great devotion, the holy Sacraments, and after a short sickness ended his holy life.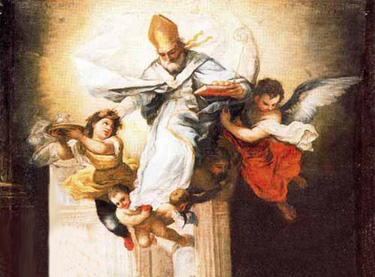 In his last moments he saw heaven open, and a great multitude of angels came to accompany his soul to heaven. His last prayer was the Psalm, "In Thee, O Lord, have I hoped." When he came to the words, "Into Thy hands I commend my spirit," he calmly expired. From his body emanated a miraculous oil, which restored the health of many sick. This oil is still flowing at Bari, in Apulia, where the holy body is enshrined, and is yearly visited by many devout pilgrims.
PRACTICAL CONSIDERATIONS.

I. St. Nicholas was very generous to the poor, but endeavored to hide his good deeds as much as possible, from men. Hence, in the darkness of night, he threw money into the house of the poor father of three daughters who stood so greatly in need of being protected. By thus acting, he obeyed the words of Christ, who said: "Take heed that you do not your justice before men, to be seen by them; otherwise you shall not have a reward from your Father who is in heaven." And again: "Let not thy left hand know what thy right hand doeth (Matth. vi)." If you do good to the poor, or perform other pious works, never do it with the desire to earn human praise; but let your motive be holy. Do not boast of the good deeds you have performed. The vain honor which you seek robs you of the reward that you would have received from God. "Those who seek their reward on this earth," says St. Ambrose, "lay nothing by for the next life; and as they have already received their reward here, they cannot expect one in the other world."
II. God revealed to St. Nicholas the time of his death. You have no such revelation, and probably never will have it. It must be sufficient that God has revealed to us all, that we all must die. The time and the manner of your death God has concealed from you, for the reason that you should be always prepared to die. "The last day has been concealed from us," says St. Augustine, "that we may live well every day." "Watch ye therefore," says Christ, "for ye know not when the Lord of the house cometh, at even, or at midnight (Mark, xiii.)". Happy is he whom death finds prepared. This Our Saviour says, in the following words: "Blessed is that servant, whom when his Lord shall come, he shall find so doing. Verily I say unto you, he will set him over all he possesseth (Luke, xii.)". To this end, it is very useful to think frequently of death, as this thought will urge us to prepare ourselves for it in time, and to be constantly prepared. "It is quite certain," says St. Bernard, "that you will die; but you know not when, how and where! As, therefore, death waits for you everywhere, if you wish to act wisely, be ready everywhere for him." St. Gregory writes: "We ought to have the hour of our death continually before us and always think of the words of Christ: 'Watch, for you know neither the day nor the hour.'"
______________________________
Music: Intonent Hodie
The Latin Text dates back to the 12th century and was part of the Liturgy of St. Nicholas. What follows is the English translation:
Sing today voices of the church.
And so come daybreak in a rejoicing world
With a jubilant heart and happy mouth.
This famous saint, the Lord's subject,
Was laid in a cradle; he avoided the breast, denied his flesh,
And three times on Saturday the boy fasted.
To the wretched parent, whose boy drowned
He granted what was asked; he heard his prayers,
And gave the drowned boy back to his father.
To the three virgins without food and needing money,
He restored honour, saving them from mistakes,
And giving back to the maidens the flower of virginity.



(From the Liturgy of St. Nicholas)