GESU BAMBINO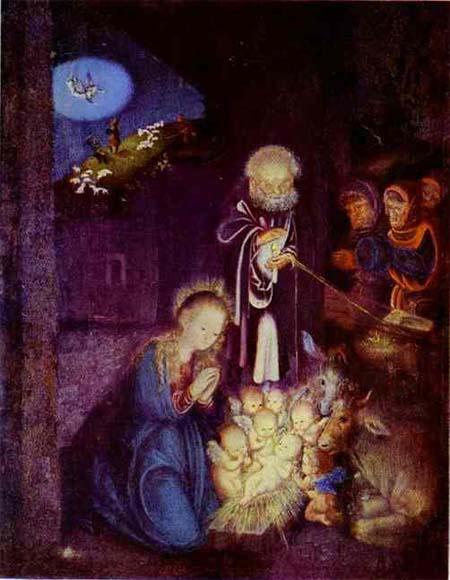 GESU BAMBINO
When blossoms flowered 'mid the snows upon a winter night
Was born the Child the Christmas Rose, the King of Love and Light
The angels sang, the shepherds sang, the grateful earth rejoiced
And at His blessed birth the stars their exultation voiced.
Refrain:
O Come let us adore Him,
O come let us adore Him
O come let us adore Him,
Christ the Lord.
Again the heart with rapture glows to greet the holy night
that gave the world it's Christmas Rose, it's king of Love and Light
Let ev'ry voice acclaim His name, the grateful chorus swell
From paradise to earth He came that we with Him might dwell
Refrain:
O come let us adore Him,
O come let us adore Him,
O come let us adore Him,
Christ the Lord.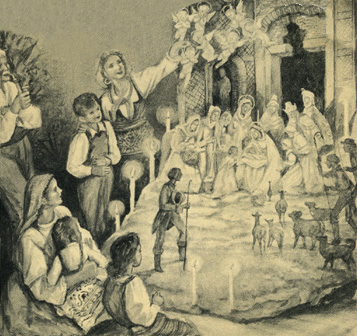 Christmas in Italy
In the Advent of this most Christian of observances, it is proper that the country of the Eternal City should put on its most joyous robes and to the greatest music celebrate the Christmas Mass in all the glory and panoply of the Church. Shepherds come down from the mountains into Rome and perform on their pipes and pastoral flutes at the Shrines of the Blessed Virgin and before the doors of all carpenters' shops in the city.
The Christmas scene is not set in the familiar evergreens of the North, but with beautiful flowers, and the Praesepio takes the place of the Christmas Tree. The Praesepio is to be found in the home, rich and poor, as well as in the Church, and is rebuilt every year as the Season approaches, and in it is to be found the highest expression of the people. It is constructed of wood, cork, plaster, papier-mache and other materials, most elaborately, and is a source of great personal inspiration and enjoyment. Across it move the characters of the great Drama of the Nativity: angels, flocks of sheep, cattle and the retinue of the kings in all their magnificence. The colorful tableaux would still be incomplete if local characters also were not introduced, winding their way to the sacred grotto, carrying gifts peculiar to their region.
This, then, is an answer of the Italian people to the great call of Christendom: "O Adeste Fidelis."
http://catholicharboroffaithandmorals.com/